Discover the fleet of Friderici Special trucks with cranes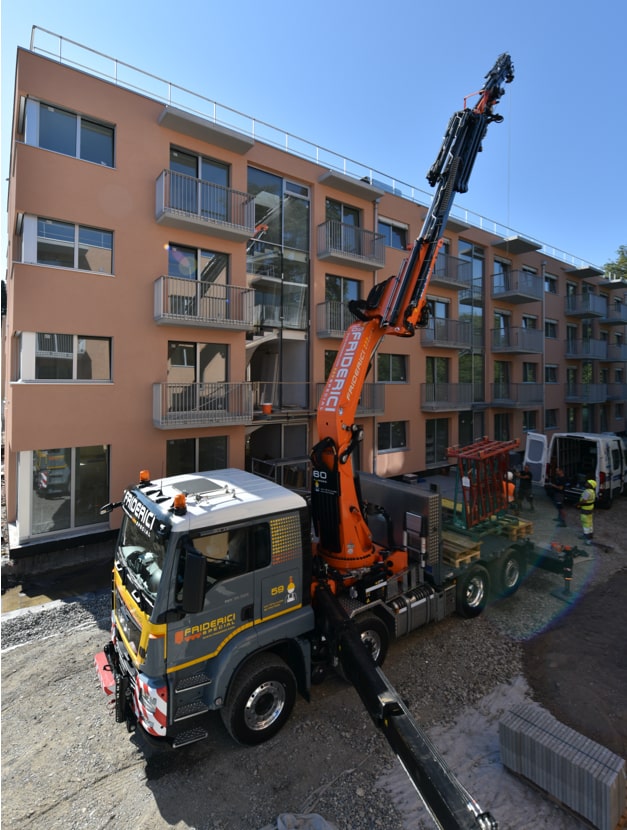 Our trucks with cranes
A difficult to access site? A bulky piece? A delicate item? Your transport and lifting company Friderici Spécial offers you a wide range of crane trucks and lifting equipment to efficiently combine transport and lifting.
The crane truck, also called mobile crane or self-propelled crane, is a machine built on wheels or tracks and allows the handling and lifting of heavy loads (possibility of lifting objects of several tons). This construction crane has the characteristic of being mobile, which allows to avoid the number of cranes present on a construction site as well as the assembly or disassembly of these. The structure of this lifting equipment is formed by a frame, the base of the crane, a turret, which supports the counterweight, and the boom, mounted on the turret. Truck cranes are very useful in the construction, recovery or transportation sectors.
The choice of the crane truck is made according to your needs in terms of capacity, reach, lifting height, dimensions of the packages to be transported and payload. Various accessories are available (winch, pallet fork, glass or panel suction cups, etc.). Our team of experts will help you choose the right equipment and carry out your project thanks to our crane rental services and other all-terrain lifting equipment. Trust your road transport company Friderici Spécial for your handling and lifting operations!
The guarantees of our trucks with cranes
Safety is one of our priorities, which is why we guarantee you perfectly maintained trucks with cranes.
The teams of your lifting company are composed of various experts who will answer your every question about your truck crane needs and advise you on the optimal solution. Accustomed to complex construction sites and to driving trucks with cranes in complete safety, our lifting specialists will carefully move your delicate equipment.