Fridérici Special - Specialist in exceptional national / international convoys
National / International oversize
and non-standard load transport
FRIDERICI SPÉCIAL: YOUR OVERSIZE AND NON-STANDARD LOAD SPECIALIST IN SWITZERLAND
Do you need to transport an exceptionally large object, a non-standard size machine or special merchandise such as hazardous materials? Friderici Spécial will organise this exceptional transport of your goods from loading to unloading. A leader in transport in Switzerland, Friderici Spécial is also an expert in oversize and non-standard loads.
A comprehensive, efficient special transport service
Your transport company, Friderici Spécial, has an entire fleet, equipment, specialised transport professionals and expertise to provide efficient and secure transport of your non-standard items.
Does your merchandise or equipment exceed regulatory limits and need to be transported by a special convoy? Friderici Spécial takes charge of the entire transport of your objects from the departure location to its arrival. Your transport company takes care of securing your bulky or heavy load with special equipment (lifting equipment, cranes, semi-trailers, etc.), as well as secure unloading.
Friderici Spécial has an extensive, diversified fleet to best meet all your special load requirements.
To ensure your merchandise is delivered as soon as possible, your transport company also fulfils all the administrative formalities required for your special transport, such as transport authorisations from competent authorities.
We also have a team of experts who can provide optimal solutions for the technical and physical requirements of your most complex oversize or non-standard load transport projects: our transport company's teams define the most appropriate road itineraries to guarantee rapid and safe transportation of your goods while complying with roadway rules. We also examine traffic conditions to ensure the fluidity of the transport of your special load.
Expertise in transporting oversize and non-standard loads in switzerland
Does your project involve an oversize or non-standard load requiring transport by convoy? Swiss regulations require escorts composed of personnel and vehicles approved by the police authorities for oversize loads whose size exceeds the regulatory limits (width: 3.80 m, total length: 35 m, height: 4.80 m). Thanks to our trained team, recognised by police authorities, our transport company, Friderici Spécial, can provide these escorts.
Our specialised transport experts have taken professional training to be able to recognise road signage specific to special load transport, to manage traffic in coordination with authorities when a convoy passes, and to perform inspections before departing.
To ensure maximum safety throughout the journey, we also provide our escorts with a motorcade of dedicated vehicles equipped with flashing lights.
Specific training is required in Switzerland for special transport escorts, and the Swiss transport company Friderici Spécial has met all the prerequisites to provide a secure oversize load transport service autonomously. At the end of training, ACE (exceptional convoy/oversize transport escort) authorisation is issued by the Canton of Fribourg's police authorities.
Our teams are certified and trained to escort your oversize load in Switzerland and abroad.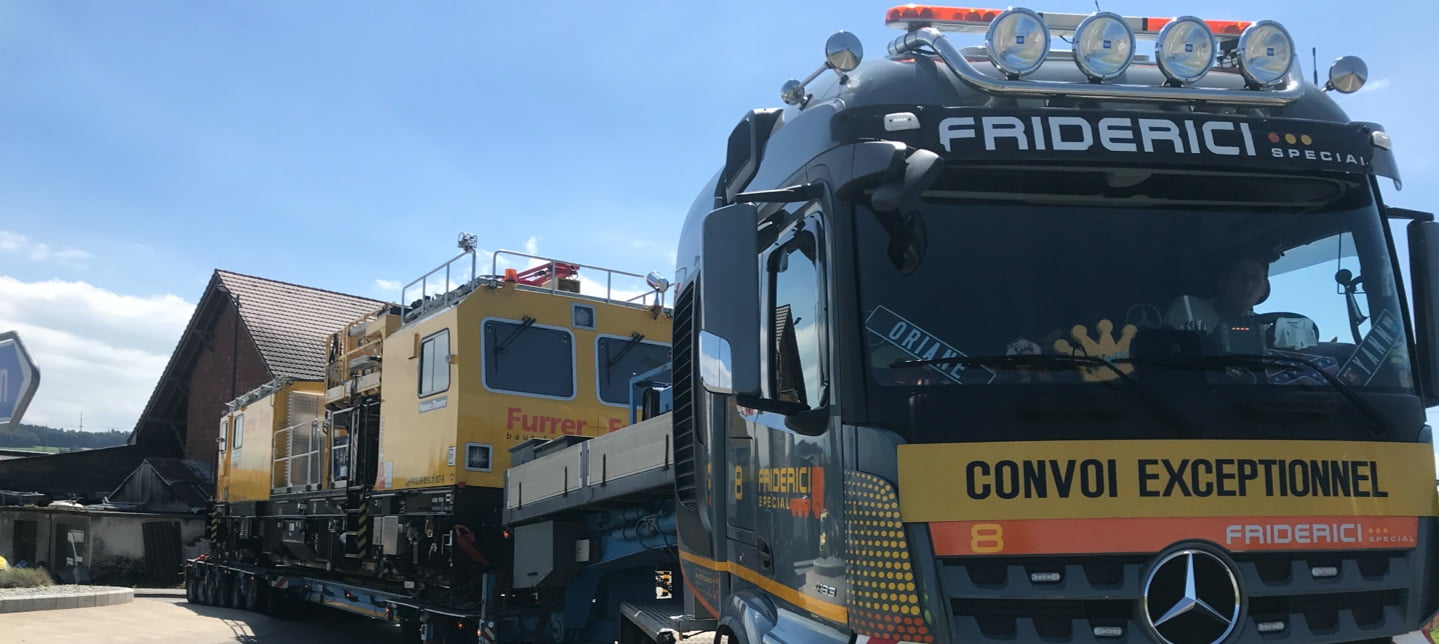 Your benefits when you choose our oversize and non-standard transport team of specialists:
Comprehensive special transport services with favourable terms
Trained, qualified experts to escort your oversize or non-standard load
Outsourced management of all administrative formalities for your special transport project
A feasibility study prepared by experts in the Swiss roadway system
Short time frames
At Friderici Spécial, we are committed to offering customised solutions for your transport and meeting all your requirements, even the most complex, as rapidly as possible.
At Friderici Spécial, we make it our business to develop tailor-made transport solutions for you that meet all your requirements, even the most complex ones, in the shortest possible time.
Would you like to receive an offer for your transport project?
Contact us and we will send you a non-binding offer as soon as possible.