Friderici Spécial - Alternatively-powered vehicles
Alternatively-powered vehicles
Our 100% electric truck
Friderici Spécial, Avesco Rent, Galliker Transport and Futuricum present two 100% electric trucks: each one has a 900 kWh battery. This is a global first "Engineered in Switzerland". Electromobility is now entering the heavy and special transport sector, sending a clear signal to the logistics sector.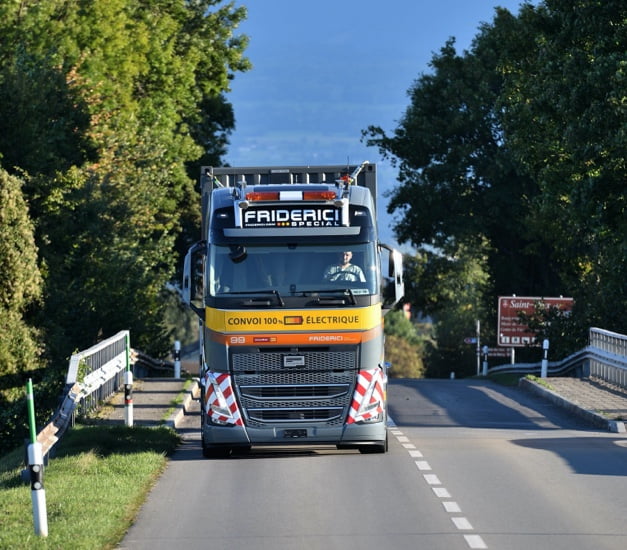 Competitive performance in heavy and special transport operations
Adrian Melliger, CEO of the Designwerk Group, said, "With the completion of these vehicles, we have reached an important milestone. Thanks to the installation of 900 kWh battery capacity, we are increasing the radius of action in the logistics sector and enabling particularly energy-intensive applications such as in heavy and special transports." An exemption was required from the Swiss Federal Roads Office (FEDRO) to authorise these 100% electric trucks to be driven on roads. FEDRO authorised the manufacturing and use of vehicles with an additional length of one metre, as well as an increase in payload of two tonnes
The transport company Friderici Spécial, the construction machinery rental company Avesco Rent, and Futuricum, the e-truck brand of the Designwerk Group, present a twofold world premiere in the field of transport logistics: two 100% electric 40-tonne trucks with a battery capacity of 900 kilowatt-hours (kWh) each. This innovation was made possible thanks to the commitment of four pioneering companies to sustainability.
An innovation for more sustainable work sites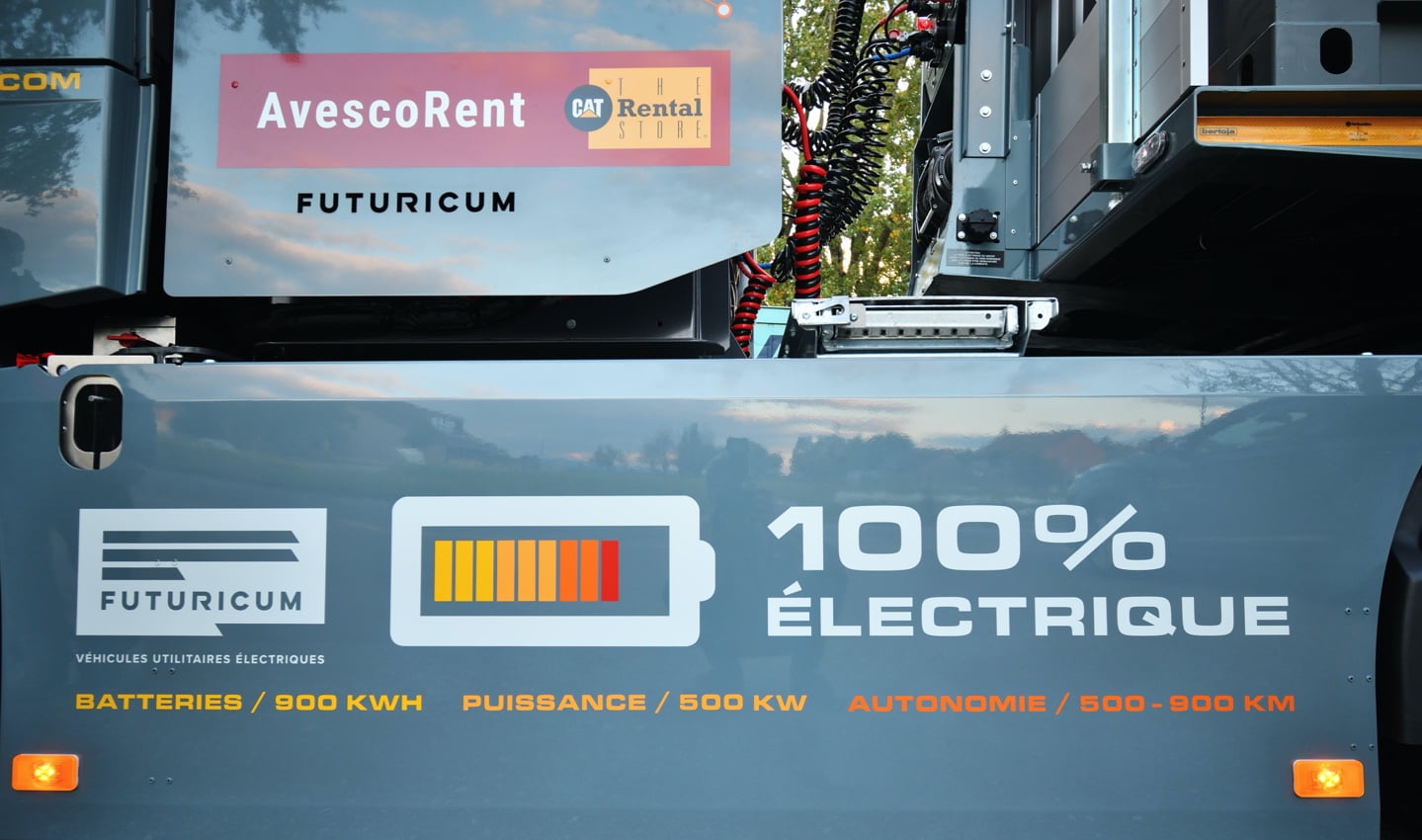 The Avesco Rent and Friderici Spécial project resulted from one observation: close to 50% of the CO2 emissions of work sites are attributable to transport. Focusing on the transport of machinery to reduce the carbon footprint of work sites seemed obvious to the heads of these two companies in the Canton of Vaud.
The electric truck presented today in Lucerne is the result of their joint commitment, in collaboration with Futuricum.
"At Avesco Rent, we believe in the intelligence of sharing. In fact, that is our slogan,"
said its Director Vincent Albasini.
"This desire to find innovative and sustainable solutions has driven us throughout the process, from the first discussions in November 2020 to the realisation of our project today."
Challenges and ingenious solutions
Friderici Spécial's electric truck has a range of 900 kilometres when unloaded and 500 kilometres with a total weight of 40 tonnes. To achieve this performance, a number of challenges had to be overcome, starting with the weight of the towing vehicle, which is heavier than a combustion-powered vehicle. A new architecture for the road train and a two-axle semi-trailer built by the Italian manufacturer Bertoja, designed using high-performance steel and optimized thanks to their experience with this type of transport, allow for enough weight to be saved to reach the payload target of 21 tonnes.
Another question that arises in every conversation on electric vehicles is the performance of batteries over time. Futuricum can guarantee the battery for 10 years, after which the batteries will be reused as a storage solution. The use of this electric tractor truck also calls into question certain common beliefs about the transport industry. The time required to charge the truck is estimated at nine hours and is only possible by using a supercharger installed either at the initial loading site or at the customer. The truck, parked directly on its itinerary, thereby gains a few kilometres every day, which is most welcome to optimize the use of this vehicle to the greatest extent possible. Rarely have the grade changes and constraints imposed on the vehicle been as carefully studied when an itinerary is established.
100% carbon-neutral transport
Friderici Spécial's truck is perfectly suited to the transport of rental machinery between Avesco Rent's sites. This internal transport will now be completely CO2-neutral, thereby reducing the carbon footprint of work sites. The new vehicle will make five weekly rounds throughout Switzerland before returning to Avesco Rent's head office in Puidoux (Vaud) in the evening to be recharged with green energy. For the Director of Friderici Spécial, Clément Friderici:
"It is a big step to have this 40-tonne electric truck in our fleet. This technical feat opens up new development perspectives for more sustainable transport. We are pleased to be able to develop this idea from the prototype stage to an industrial tool. We hope to inspire the logistics industry and show that sustainability, one of the great challenges of the coming years, is also possible within this sector. We were surprised how quickly such solutions have come onto the market."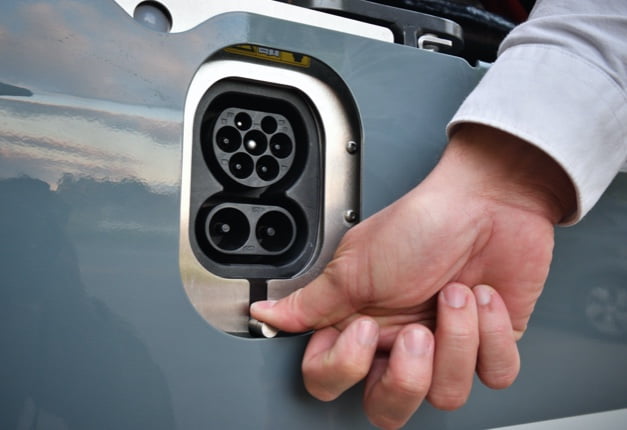 The press is talking about us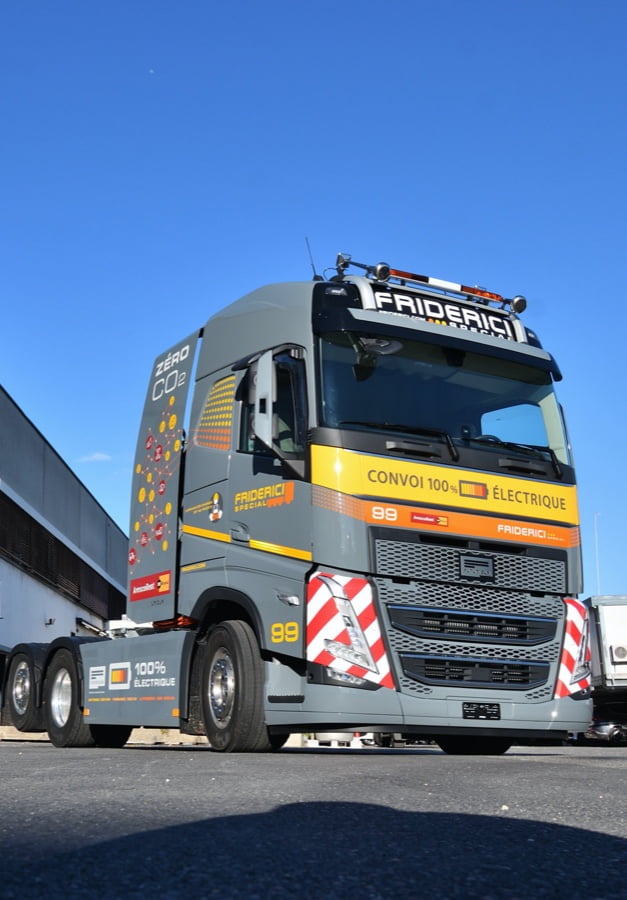 RTS radio and TV
"Un camion de 40 tonnes 100% électrique débarque sur les routes suisses"
SRF
"Elektro-Mobilität – Riesige Batterie für erste E-40-Tönner"
LFM
"Deux boîtes vaudoises inaugurent le premier camion électrique"
Radio Chablais
"Deux camions 100% électriques vont parcourir les routes suisses"
Luzerner Zeitung
"So sieht der weltweit erste E-Lastwagen für Langstrecken aus"
20 Minutes
"Première mondiale – Un 40 tonnes électrique suisse capable d'avaler 500 km"
Journal de Morges
"Un camion 100% électrique pour verdir le transporteur Friderici"
Le Dauphiné libéré
"Innovation / Suisse. Le tout premier camion de 40 tonnes entièrement électrique"
Transport online.de
"Elektro-Schwerlast-Lkw: Futuricum-Lkw zu Sonderfahrzeugen umgerüstet"
Electrive.com
"Futuricum's specialised e-trucks now on roads"
Electrive.net
"Futuricum: E-Lkw-Modelle in Überlänge nehmen ihren Dienst auf"
Logistra
"Futuricum: Erste Elektro-Schwerlaster realisiert"
Le Temps
"Deux 40 tonnes propulsent la Suisse vers un record dans la mobilité électrique"
24 Heures and Journal de Morges
"Innovation à Tolochenaz – Deux «mastodontes» des routes en pionniers de l'électrique"
Le Nouvelliste
"Un camion 100% électrique révolutionnaire et ses impulsions valaisannes"
Would you like to receive an offer for your transport project?
Contact us and we will send you a non-binding offer as soon as possible.