Friderici Spécial - Special transport operations
Special transport operations
family of carriers for over 100 years
You have material to transport in Switzerland or abroad?
Friderici Special is an expert transport company, able to respond to any request in the shortest time and at the most advantageous conditions.
Our daily business in Switzerland, serving various sectors such as construction, industry and energy, allows us to respond with great flexibility to your needs.
Parts with non-standard dimensions are our challenge. We create solutions that best meet the technical, administrative and physical requirements of these complex transports.
We organize your requests for road transport and exceptional convoys in the shortest possible time within a radius of 3,500 km and more!
Our special skills are as follows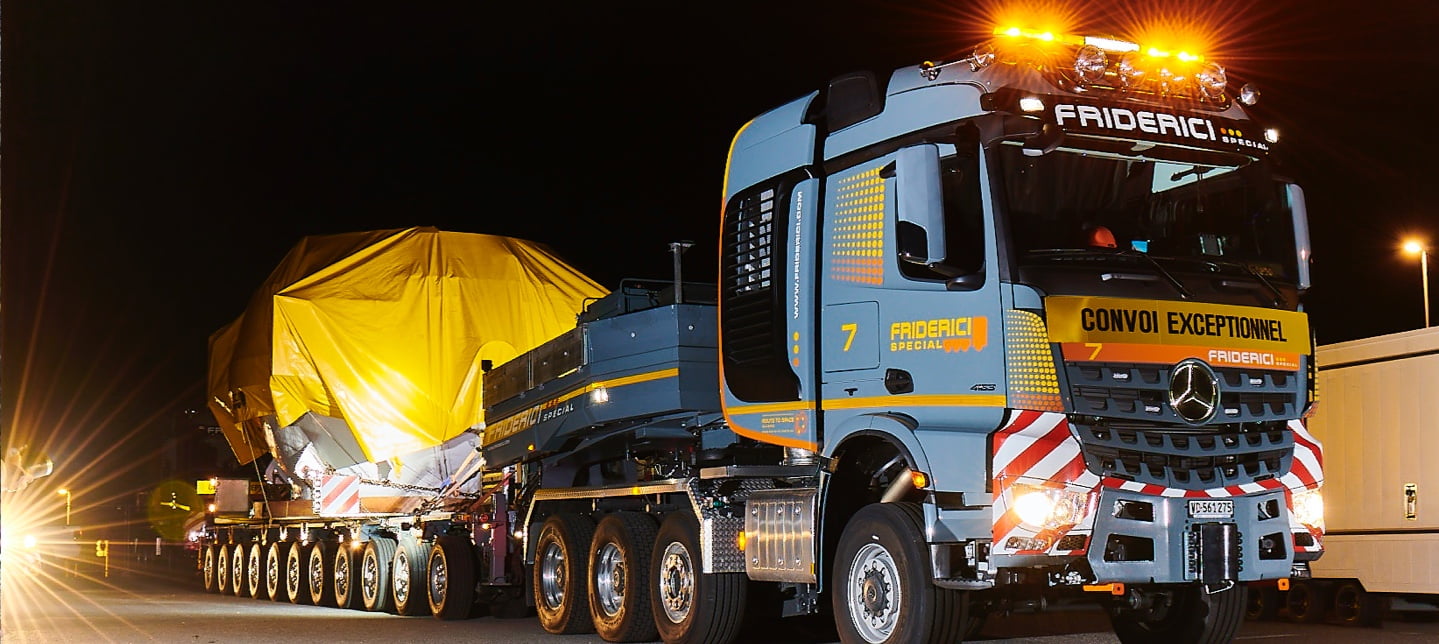 Swiss and international transport: we take care of the entire organization
Exceptional transport: we create solutions for your non-standard parts
Transport authorizations, customs formalities: we take care of all the administrative procedures related to your project
Transport with crane trucks: we can load and unload your goods in an autonomous way
Diversified fleet of trucks at your disposal
Fleet of more than 100 semi-trailers
Short deadlines, our specialty is to create fast transport solutions
Team of experts in the most complex transport demands
A transporter at your service
A wide range of materials
We have a wide range of materials to meet your scheduling requirements. We can adapt it so as to respond to the needs of every situation as precisely as possible. Our fleet of semi-trailer units consists of more than 100 vehicles, all of them different, which gives us the flexibility needed for everyday operations.
Administration: we organise everything on your behalf
In order to obtain the special permits required from the authorities of the many countries we serve, we need to be acquainted with numerous parameters. The applicable statutes, approvals and documents required are just some of the formalities which we are fully capable of handling.
Transport safety / security
The constraints borne by the goods you entrust to us and the expectations in terms of protection that you may require push us to constantly imagine new transport solutions for you. Our vehicles are adapted to offer quality transport in complete safety.
Would you like to receive an offer for your transport project?
Contact us and we will send you a non-binding offer as soon as possible.