Friderici Spécial, your swiss transport company since the 19th century
Since the end of the 19th century, Friderici Spécial has been a major player in road transport in Switzerland. The family business was already transporting loads on regional roads, satisfying a wide range of customers. After the Second World War, the Swiss transport company established a solid presence on the international market. Flexibility, safety and expertise: Friderici Spécial provides transport services in Switzerland, throughout Europe, and even in the Middle East! In the 1960s, cranes were added to the large fleet of vehicles for lifting projects. The family business has remained innovative, dynamic and attentive to the needs of its customers. Your Swiss transport company stands by your side, assisting you every day with your road transport, handling and lifting projects.
Your swiss transport company specialised in oversize and non-standard load transport
Passionate about transport and lifting, our team loves a challenge! For years, your Swiss transport company has been successfully carrying out large-scale projects. Whether it's the transport of wind tower components, generators or motorway bridges, we have the right trucks for your oversize load transport needs. Trained for this special type of transport, our team of experts moves your bulky and delicate loads with care. The Swiss transporter takes care of administrative formalities so our customers can have peace of mind. On Swiss and international routes, Friderici Spécial guarantees the safe transport of non-standard loads!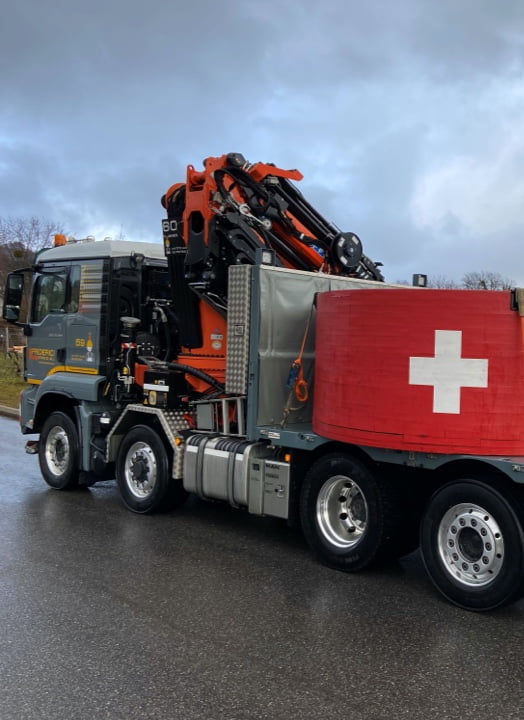 Road transport, lifting, handling, administrative formalities: your swiss transport company provides a wide variety of services
Transport, lifting, handling and storage: your Swiss transport company offers a wide variety of complementary services. Adapting to your constraints, our truck drivers travel throughout Switzerland and internationally. Whether it's for the transport of fragile equipment or large quantities of goods or oversize loads, your Swiss transport company will ensure that your goods are transported safely. Friderici Spécial's experienced team carefully lifts and handles all your loads. Our crane trucks and site cranes can adapt to all your requirements. From project management to administrative formalities and safety measures, the Swiss transport company offers comprehensive services for greater peace of mind.
With a diversified fleet of trucks and cranes in the hands of qualified drivers, your swiss transport company meets all your needs
Our motivated, dynamic team is at your disposal to assist you with your projects. Over the years, your Swiss transport company has hired specialists passionate about their profession. Our qualified drivers drive trucks and semi-trailers with dexterity and precision. For the lifting of fragile loads, Friderici Spécial's fleet includes crane trucks and mobile and telescopic cranes. This varied fleet allows us to work on even the most complex sites. For more than 75 years, your Swiss transport company has been proud to be a leader in road transport, lifting and handling!