International freight forwarder
Friderici Spécial, your international transport company for over 125 years
Since the end of the 19th century, Friderici Spécial has been a major player in Swiss road transport. After the Second World War, the family business started to offer its services on the international transport market. Its team of drivers, at the wheel of trucks and cranes, crisscrossed international roads with exceptional convoys to safely transport oversize loads. In a short time, the Swiss transport company satisfied numerous customers throughout Europe and even in the Middle East! Today, Friderici Spécial is still renowned as a leader in Switzerland and internationally in the fields of road transport, lifting and handling.
Your international transport company provides support for non-standard transport, lifting and handling projects
Do you need to transport non-standard loads abroad? Your international transport company provides this service in Switzerland, throughout Europe, and beyond. Specialised in handling, our careful team ensures the safe loading and installation of your equipment. Our cranes and crane trucks are perfectly suited to lifting heavy and bulky loads. Our drivers travel 3,500 km and more for your international road transport. With 125 years of experience, Friderici Spécial will also help you with your administrative formalities. Our specialists are familiar with the laws, authorisations and documents required for exceptional international transport. For your special international transport requirements, trust the Swiss specialist Friderici Spécial!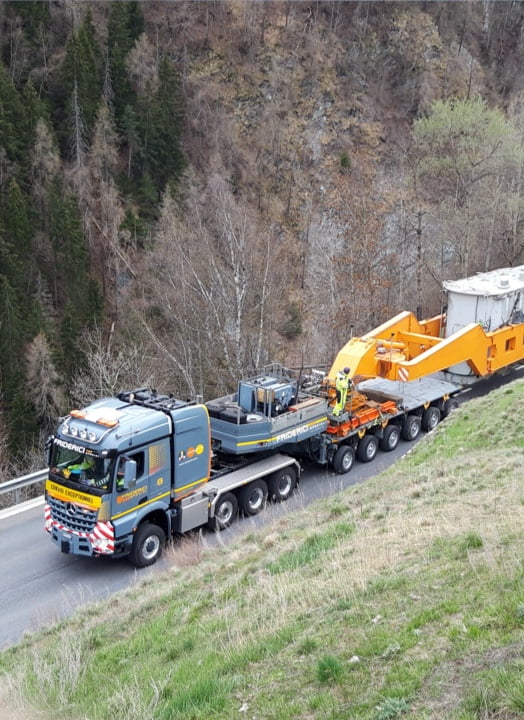 Trucks, semi-trailers and cranes: a large fleet perfectly suited to special international transport
Your international transport company has a diversified fleet to meet all your needs! Friderici Spécial's fleet includes modern crane trucks, and also no less than 180 semi-trailers. Regularly inspected and optimally maintained, our vehicles cover kilometre after kilometre for your exceptional international transport. Suitable for handling fragile and bulky loads, our telescopic cranes have a lifting capacity of 5 to 700 tonnes! Our large fleet can meet all your needs.
A team of experts in international road transport
Over the years, Friderici Spécial has built up a dynamic and motivated team. Passionate about their job, our specialists love a challenge and making sure our customers are satisfied! Sometimes travelling 3,500 km or more, our drivers transport your bulky loads safely and in the shortest possible time. Expertise, flexibility and reliability: our Swiss and international customers are grateful for our support. Do you have an international transport, lifting and/or handling project? Ask for a free customised quotation now!